Charme & Relax
FivePlace Suites

design apartments in Trapani
Fiveplace offers five different types of apartments with kitchen on request in Trapani center and a standard room without kitchen.
Our holiday apartments in Trapani are located a few steps from the sea, in the beautiful setting of the old town, in a well served area with everything you need.
Fiveplace Design Suite & Apartaments will be your oasis of tranquility and relaxation in a modern and elegant environment, where you will feel at ease. Our hospitality will make you feel at home.
Book now your stay in one of our exclusive suites in the center of Trapani!
Here is an overview of our Suites & Apartments in Trapani.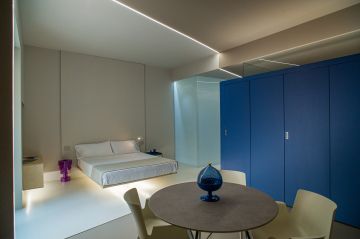 Suite Royal with view  
An elegant and modern suite, consisting of a living room with double bed and balcony, a double bedroom and a bathroom with shower.
Equipped with a complete kitchen with dishwasher
Balcony with magnificent views in one of the main squares of Trapani, will allow you to spend a pleasant evening, sipping a good wine and enjoying the summer heat.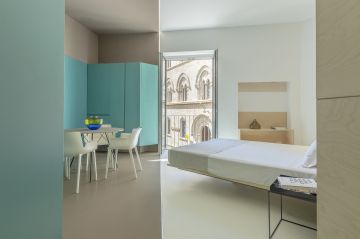 Presidential suite with view
In the elegant and intimate Presidential Suite you will find a living room with double bed, a comfortable kitchen with dishwasher at your disposal with balcony. A second double bedroom and a balcony. It is a cozy bathroom, exclusive design, equipped with shower.
Separate entrance from reception. Wonderful view of the main square and Via Garibaldi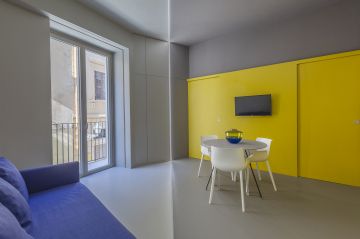 Superior
A comfortable and intimate apartment of 50 square meters in which they can stay up to 4 people.
Apartment consists of a living room, kitchen equipped with dishwasher, so as to offer you maximum comfort during your stay in Trapani, a double bedroom and a modern designer bathroom is equipped with shower and window. Separate entrance from reception.
To allow you to enjoy the most of the wonderful Sicilian climate and the beauty of the historic center of Trapani , are at your disposal two balconies in the historic Via Garibaldi.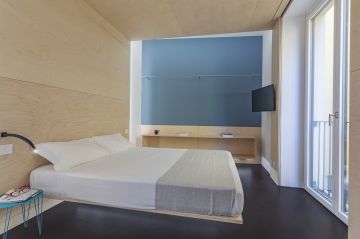 Junior Suite
In an environment with a modern concept, the Junior Suite consists of a living room with a balcony with a kitchen, to allow you to cook excellent meals using the ingredients of the Sicilian gastronomic tradition. A double bedroom and window. The bathroom is equipped with a shower.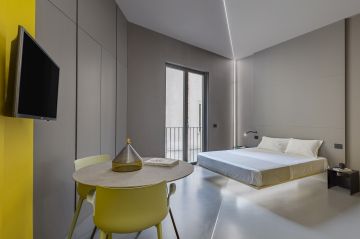 Suite Deluxe
The deluxe suite consists of a double bedroom with a living room and a kitchen on top of the archway. The bathroom has a shower with window. Although this suite has no balcony, you will find a large window overlooking one of the most beautiful streets in the center of Trapani.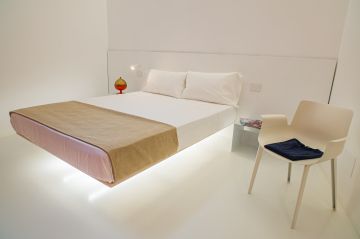 Camera standard
The standard room is suitable for two people: in its 20 square meters you will find a double bedroom and a bathroom with shower. The windows, both in the room and in the bathroom, are arranged at the top.
Have you already decided which of our holiday homes in Trapani center you want to stay in? Book now!